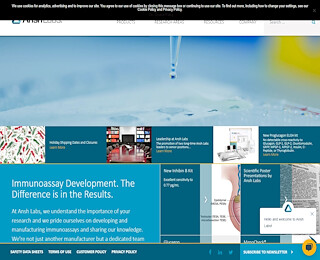 Activin A Product Specification
One of the most important uses of Activin A is for experimental or clinical research that helps in creating substantial output studies for medical advancements. That is why we, at AnshLabs, consistently provides a high quality of research products catering to various fields of scientific investigation as part of our goal of providing and realizing a healthier future.
Our products include a wide array of antibodies, antigens, protein types, immunoassays, and other biochemical support. Aside from that, we also provide various tools utilized for research practices for biomedical fields such as in pregnancy, functions for reproduction, metabolism, oncology, factors of human growth, cardiovascular-related diseases, neuronal based ailments and disorders, reagents used for clinical research, monoclonal types of antibodies, and animal-specific varieties of assays. We focus not only in research development but also in manufacturing and discovery in terms of biotechnology as well as in immunoassays solutions.
Specifications for Activin A and other Products
We have various products catering Activin A options. One of which is the Activin AB type of Elisa which cater species like mouse, canine, ovine, equine, caprine, rabbit, and human types. It has a detection limit of up to 0.117 pg/mL with a dynamic range starting from 6, 1.35 to up to 108 pg/mL. Its assay time involves 5.5 hours with 24 months of shelf life span.
Another is the Activin A type of Elisa product which is intended for human and mouse species only 6, 0.1 up to 10 ng/mL dynamic range and 0.065 ng/mL of detection limit capacity. It has a sample type of plasma and serum with 3.5 hours of an assay time period. It also has 24-month shelf capacity similar to Activin AB.
On the other hand, the Elisa type of Follistatin-like 3 is one of our products which is only for human species and are available to deliver worldwide. Its range of dynamics range from 6, 0.36 to up until 12 ng/mL and its limit size of detection is 0.164 ng/mL.  It also has a serum sample type with 2.5 hours of assay period and standard shelf life of 24 months. Another Follistatin ELISA is the AL-117 product which both includes species of equine and human with a dynamic range of 7, 0.612 up to 20 ng/mL. Its detection limit is only 0.18 ng/mL and includes sample types like plasma and serum. This type of Follistatin has a maximum assay time of at least 3 hours and shelf life of 24 months.
Our wide range of ELISAs kit product options enabled many scopes of research to enhance the biomarkers of early-stage specialty diagnosis conduct. These products that we cater to provide highly accurate quantifiers or measurements in determining IGFBPs as well as in distinguishing bioactive components.
Contact Details
For a more detailed product description, you may visit Ansh Labs official website at www.anshlabs.com  and fill out the online message form provided in the site or you may reach us through phone at 281 404 0260 for immediate inquiry, request, or discussion of your product concerns. We can gladly assist you from 8:30AM up to 5:30Pm Central Time.
Ansh Labs LLC
281-404-0260
445 Medical Center Blvd, Webster, TX 77598
View Larger Map